Engine Buildup Guidelines
Carburated Engines
1987-1994 V6 3.0L
1984-1987 Turbo I
1987-1990 Turbo II
1987-1990 Turbo II
1991-1993 Turbo III Spirit RT and Iroc
1989-1990 VNT Daytona LeBaron & CSX Turbo IV
1989-1992 2.5 Turbo

Enforcer Engine Assemblies
Each one of the Forward Motion Enforcer engine assemblies is race ready and blueprinted to our exact specification. Each component is triple checked to make sure there are no flaws and deburred to eliminate any high stress areas.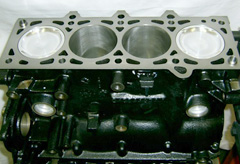 Cylinder Head Assemblies
Each FM cylinder head combination in the series has been developed for a specific purpose. The extensive porting work, valves and camshaft selection has been carefully matched to achieve maximum horsepower gains.

Engine Buildup Parts
Pistons, crankshafts, connecting rods, oil pumps, 2.2L/2.5L head bolts, head studs & main studs, rod bushings & bolts, bearings, gaskets, rings, oil pans, clutches for 2.2/2.5L TI, TII, TIII, TIV, flywheels, oil filters, turbo & coolant lines, underdrive pulley kits.

Turbochargers
Enforcer SRT4 and 2.2/2.5L turbos, GT and SC Series turbos, Tial wastegates, actuators and Blow Off Valves.

Valvetrain
Valves, Fidanza adjustable cam sprocket, rocker arms, lifters, camshafts, retainers & spring sets.

Fuel Systems
Fuel pumps, injectors, rails, fuel pressure regulators, nitrous systems.

Intake & Exhaust
FM ported intake manifolds, exhaust systems, ported exhaust manifolds.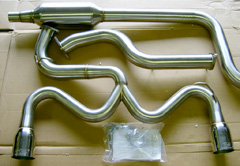 Air Systems
FM ported intake manifolds, exhaust systems, ported exhaust manifolds.

Electronics
Computers, plugs, Magnecor wires, wiring harness packages and more...

FAST Engine Management
Take the lead with the newest technology available. Take precise control over fuel and spark parameters.

Suspension Parts
Competition strut towers, sway bars, lowering springs, struts, polyurethane bushings, strut mounts, shocks, motor & trans mounts, valve bodies, transaxle rebuilds, torque converters, manual trans rebuild kits and more...

3.0 V6 Parts
Underdrive pulleys, ignition wires, spark plugs, stainless steel cat back exhaust, reconditioned 52mm throttle body, clutch, springs/shocks/struts, motor mounts, suspension bushings, air filter, 5-speed shifter upgrades.

SRT4 Parts
Only the best for your SRT4! Check out our huge selection of parts and accessories.




Neon Parts
Enforcer Engine Assemblies, intake & exhaust systems, heads & valvetrain, computers & electrical components, driveline, suspension, brakes and more... we have it al!

PT & GT Cruiser
Turbo upgrades and upgrade kits, blow off valves, ignition, intake, exhaust, motor mounts, suspension, brakes, electronics.

5.7 & 6.1 HEMI
Intake and exhaust systems, headers, Mopar Performance parts, camshafts, computers.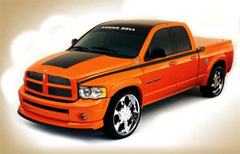 Diesel Performance
Exhaust systems, intakes, Bully Dog programers, turbo upgrades, Predator Triple Play Modules, Banks Performance.