Engine Buildup Guidelines: 1 2

Enforcer Engine Assemblies

Cylinder Head Assemblies

Engine Buildup Parts: 1 2

Turbochargers

Valvetrain

Fuel Systems

Intake and Exhaust

Air Systems

Electronics

F.A.S.T. Engine Management

Suspension: 1 2

3.0L Parts

SRT4: 1 2 3 4 5

Neon: 1 2 3

PT & GT Cruiser

HEMI/SRT8/SRT10 Ram

Diesel Performance


Back to Main


Engine Buildup Parts



FM Custom Forged Pistons
Forward Motion forged pistons are made to our specs by JE. Our testing has proved that this is the best piston for every application. This piston is 10% lighter than the other performance pistons. The 2.2L turbo pistons have the factory volume but provide better flame propagation. Standard replacement pistons are designed to use the stock ring package. Our 2.2L and 2.5L pistons feature a .912" high performance carbon steel wrist pin which is retained with double spiral locks. An .866 pin is optional, which is needed for the Eagle or Oliver connecting rod. Our race series pistons are also available with a lightweight tool steel pin for a 15 gram per pin savings.
We recommend the pistons be fit to the block with a torque plate installed. This unit can be rented or purchased from Forward Motion call for details.



STD, +.5mm or +1mm 2.2L Forged Turbo Piston 16cc dish volume $520.00/set
STD, +.5mm or +1mm 2.5L Forged Turbo Piston 22cc dish volume $520.00/set
+.5mm or +1mm 2.2/2.5L TIII Forged Turbo Piston orig. dish volume $540.00/set
+.5mm or +1mm 2.2/2.5L Masarati TC turbo Forged Pistons, 8.1 compression $540.00/set
Custom Flat Top Pistons +.5mm or +1.00mm flat top pistons for circle track, road race or autocross use. Available for use with factory, Eagle or Oliver 6.160 connecting rods. $500.00/set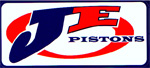 Cast Turbo Pistons

.020 Bore Turbo I or II Piston Factory Mahle
$128.45/set
STD and .020 '89-'92 2.5L Turbo I Piston Factory Mahle
$128.45/set
Standard Bore '84-'85 Turbo I Piston Federal Mogul
$124.95/set
+.5mm, +1mm '84-'85 Turbo I Piston Federal Mogul
$124.95/set




---

Crankshafts

All Forward Motion Crankshafts are cleaned, magnafluxed, index and throw holes corrected, oil holes chamfered, micro polished and balanced. Sized standard/standard or .25mm/.25mm undersize only.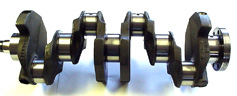 2.2L Cast Crank 3.620" stroke, specify 6 bolt or 8 bolt $320.00
2.2L Forged Steel Crank 3.620" stroke, '87-'88 $550.00
2.2L Forged Steel Crank 3.620" stroke, Common Block '89-'93 $550.00
2.5L Cast Crank 4.090" stroke, Common Block '89-'92 $320.00

Light weight crank option 9lbs from cast and 13lbs from forged steel T2 add $600


---
Connecting Rods

All connecting rods are cleaned, magnafluxed, shot peened, deburred, and specially machined for ARP rod bolts. New rod bolts installed and center to centers checked and resized for the .912 pin used with our JE forged pistons.

'84-'85 2.2L Rod w/pressed pin
$260.00/set
'86-'88 2.2L Rod lightweight w/pressed pin
$200.00/set
2.2L & 2.5L Rod Turbo 1 & 2 w/floating pin
$440.00/set
2.2L Long steel rod (naturally Aspirated use with bushing small end)
$480.00/set

2.2/2.5L GRP/FM Billet Aluminum rods
Available in 5.945" stock length or 6.180" length for improved rod ratio in a 2.2L
$520.00/set

Eagle Forged Steel Rods $350.00/set




---
Oil Pumps

High Volume Oil Pump
$65.00

High Volume Oil Pump & Pickup Kit
'87'89 2.2L $79.20 '89-up 2.5L
$84.90
High Volume Oil Pump & Shaft
$115.00



---
2.2L/2.5L Head Bolts, Head Studs & Main Studs

10mm Stock Head Bolts $32.00

11mm Mopar Performance Head Bolts $24.00

11mm Victor Headbolts $23.00
*must reuse original washers

11mm ARP Head Bolts $78.00

11mm ARP Head Studs $119.00

11mm ARP Head Studs 91-93 Turbo III Engines $135.00

ARP Main Studs $78.00


Rod Bushings

Turbo II Mopar Rod Bushings .900 pin $18.00/Set
.875 pin bushings for FM/JE Flat tops $100.00/Set


Rod Bolts

ARP 2.2/2.5 Rod Bolt Package $45.00/Set

FM Small Parts Pkg. For 2.2/2.5L
Freeze Plugs, Intermediate Shaft Bearings & Oil Journal Plugs $27.95




---
Bearings

Main Bearings Standard
+.25mm, +.5mm, +.75mm $34.95

Rod Bearings Standard
+.026mm, +.25mm, +.50mm, +.75mm, +1mm $35.75

Main Bearings Standard
+.25mm, +.5mm, +.75mm $34.95

Rod Bearings Standard
+.026mm,+.25mm, +.50mm, +.75mm, +1mm $21.95

Intermediate Shaft Bearings $19.95



<- previous page
next page ->